Are you afraid of spooky hungry monsters, Rollers? 👻
Well, you shouldn't be, because our monster 🎃 has a thrilling treat in store for you! 🎁

So, come with us and you will see 👀
This, our town of Halloween 👻👇
The Countdown to Creepy Rewards Begins!
Prepare to set your miners ablaze in the fiery depths of hell 🔥 and reap epic rewards! 🎉
Here is the quick Guide 📝 on how it's going to work:
Choose the miners you wish to sacrifice 🔥 and ensure they're in your Inventory 📦
Place them in the designated slots 📥 (you can sacrifice from 1 to 6 miners at once).
Watch as the Pumpkin devours them 🎃 and collect your fantastic rewards! 💰

☝ The burning process takes 240 minutes ⏳ (the required time remains the same regardless of the number of miners you burn), but you can always speed it up with a set amount of RLT 😉

However, here is the tip: it's not cost-effective to burn fewer than 6 miners at once 🤑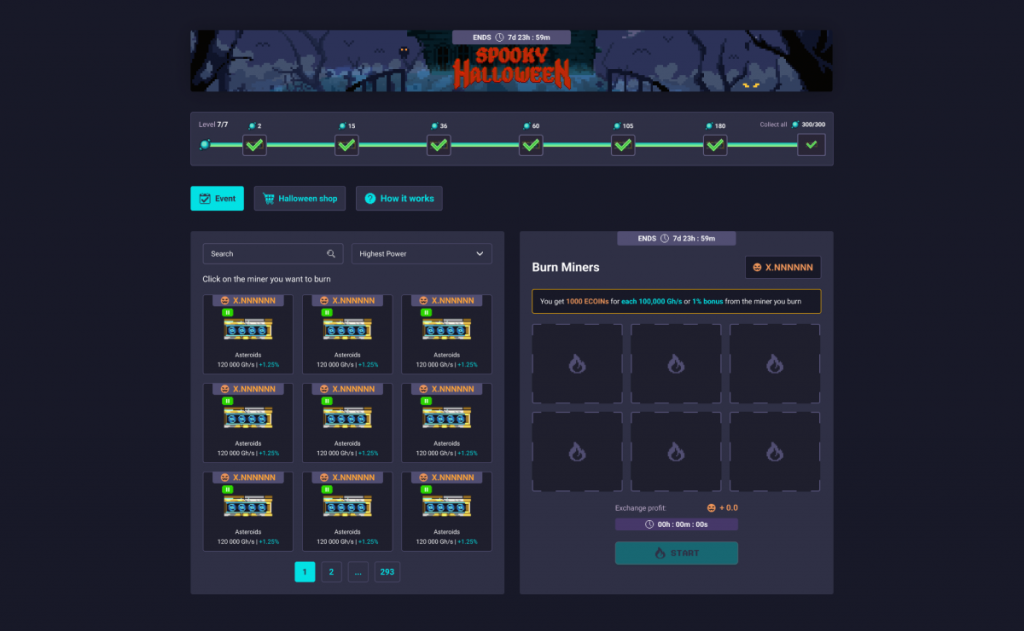 But what's in it for treats? 🍬👻

In this event, you'll be getting TWO types of rewards at the same time 🤩 for burning your miners!
Each miner you burn will bring you a set amount of:
🪙 Ecoins
🏆 Event Points

Each miner will cost a certain number of Ecoins and Event Points, depending on its mining power and collection bonus.
Event Points
Collect Event Points for burning your miners 🔥 and reap the rewards!
At the top of the window ⬆ you'll see a Progress Bar 📈 that fills up as you burn miners and collect your Event Points.

Each level requires a specific amount of Event Points and brings you one of these amazing miners 🎁

Ecoins
Collect Ecoins during the whole Halloween and get yourself the spookiest rewards ever in a brand-new Halloween Shop! 🎃🛒

ECOINS – a special event currency that you can spend in the Event Shop only. The only way to get Ecoin is by burning your miners in the Halloween Event.
 No Tricks, Just Treats!
What if we told you that you can get one of our newest Halloween event miners BEFORE the start of Event? 🤫

Join the Spookiest Giveaway on our Twitter X and get a chance to win:

10x – Boogieman miners (870000 Gh/s) 👻
15x – 50 RLT 
30x – Jack-o'-Miner 🎃