Are you spooked yet, Rollers? 👻
Trick or treat, smell my feet, give me something good to eat!  🎃 
So, join us on October 26, if you dare, and  the fun doesn't stop until November 2 👀

In this event, you'll receive TWO rewards at once for a single action! Exciting, isn't it?
This, our eerie town of Halloween! 👻👇
Summary
How it works. Burn your old miners and get your Points and Event Coins!🌟
Get your Halloween Treats! Exchange earned coins for brand-new halloween miners!
Trick Or Treat Your Way To Amazing Rewards!
Prepare to send your miners into the blazing depths of hell 🔥 and grab TWO types of rewards at the same time 🤩
Your event rewards come in two parts 👇
Points — these are the points that boost your progression and get you miners.
Event Coins — it's the in-game event currency you can spend on Halloween miners or the brand-new Spooky Halloween Case.
You have the flexibility to burn miners of any type or rarity. No restrictions here!
How To Start?
1. Go to the Halloween Page 🕸 — a place where the hungry monster lives 😈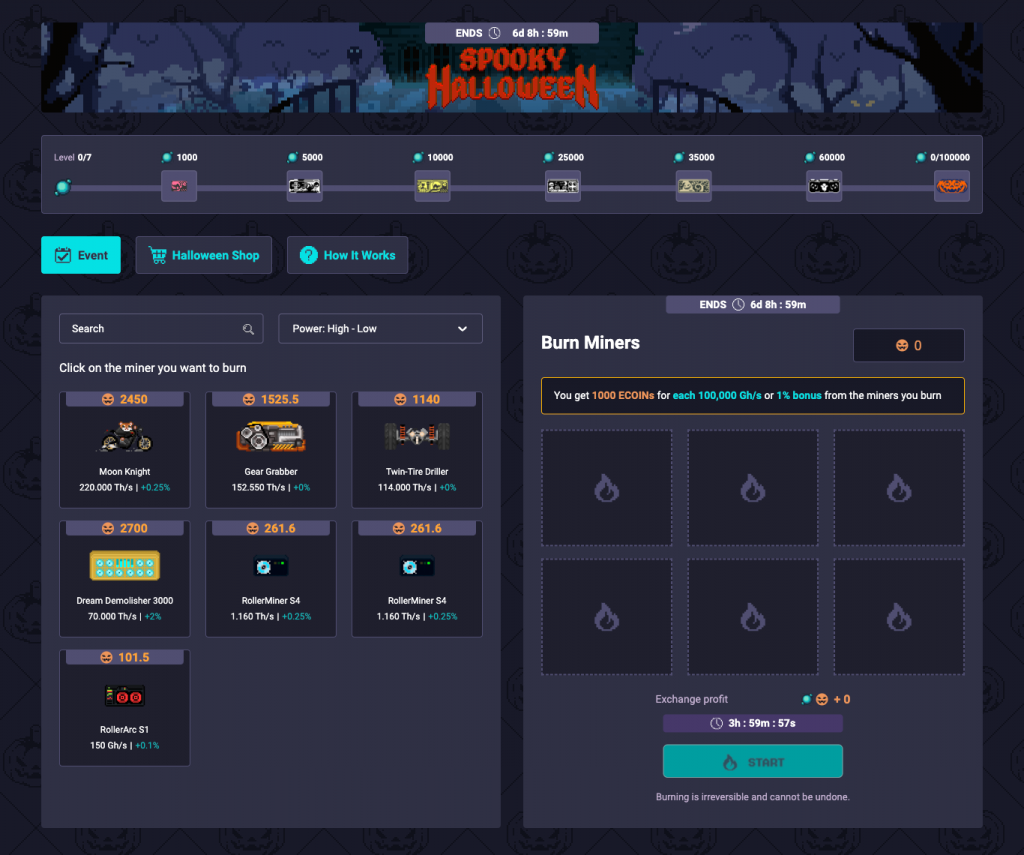 2. Here, in the left window you can select the miners you want to burn 🔥🎃
👉 Here you will find only the miners that are placed in your Inventory.
So, you get half of your rewards from progression and the other half is up for grabs with Event Coins in the Halloween Shop 🙌

3. Place the miners in the designated slots 📥 You can burn from 1 to 6 miners at once. 
Once you've placed the miners into the slots, you'll instantly see how many Points and Event Coins you'll receive for each miner, along with the time required for burning ⏳
❕ The burning time is  240 mins 🕐 regardless of the number of miners placed.
So, it's better to use your slots to the maximum 👍

5. Click the "Start" button and watch as the Pumpkin devours your miners 🎃
6. Once the pumpkin has feasted on your miners, don't forget to come back and claim your rewards! 🎯
Please note that your Points and Event Coins won't be credited to you until you press the Claim button.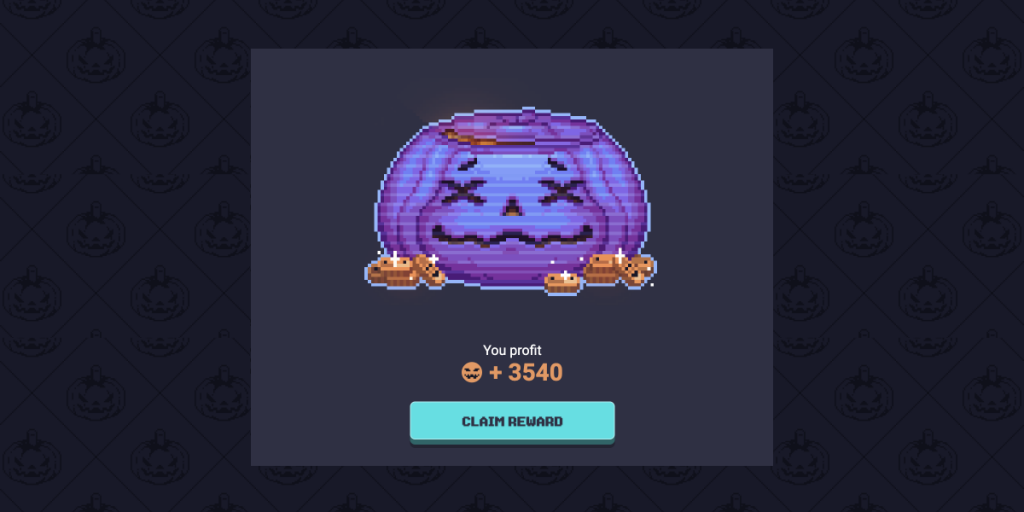 No Time To Wait?
You can speed up the burning process and grab your rewards immediately 💨 The only thing you need is a certain amount of RLT💰
Just press the "Claim Now" button! 
You can also shorten the burning time whenever you want! 
The less time left till burning is finished, the less amount of RLT you need to speed up the process ☝
Attention: If the pumpkin doesn't finish devouring your miners before the end of the event, you won't receive any Points or Event Coins. So, be vigilant! Use acceleration if there are less than 240 minutes remaining until the end of the event.
Treat Yourself: What's Inside?
Each miner you burn will bring you a set amount of:
🪙 Event Coins (ECOINs)
🏆 Points
❕ Each miner will have a specific cost in Event Coins and Points, depending on its mining power and collection bonus ☝
You can check the number of Event Coins and Points you'll receive right above the miner before burning it 👇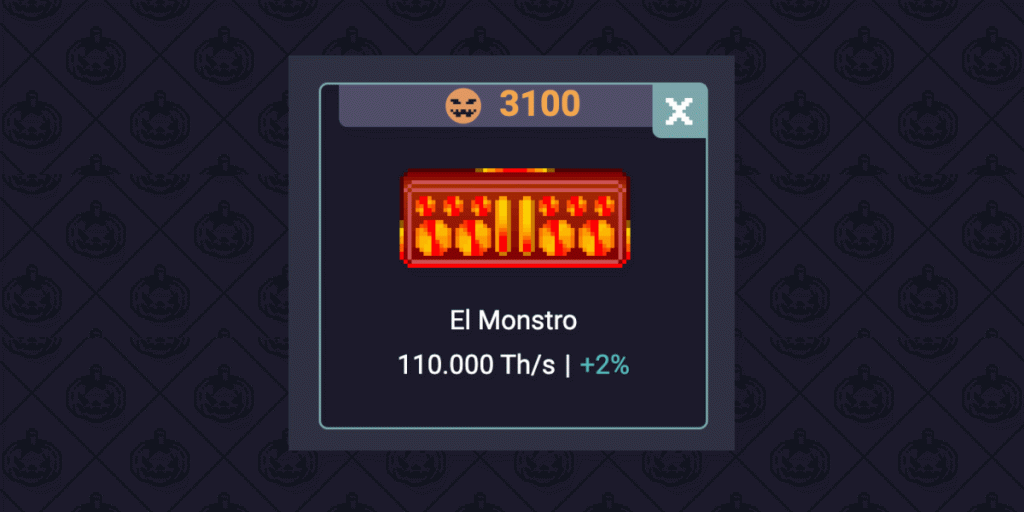 Crypt-o-Treats: Points!
Collect Points for burning your miners 🔥 and reap the rewards!
At the top of the window ⬆ you'll see a Progress Bar 📈 that fills up as you burn miners and collect your Points. 

Each level requires a specific amount of Points and brings you one of these amazing miners 🎁

☝️ Even after completing the progression, you can continue to burn miners and earn Event Coins.
Halloween Shop
Collect Event Coins during the whole Halloween and exchange them for spookiest rewards ever in our brand-new Halloween Shop! 🎃🛒
What secret curses are hidden there? 👻🕯

Do you know what will make your room the creepiest room of all? These guys from the Spooky Halloween Case will work on your creepiness! Collect them all and become the scariest monster!👇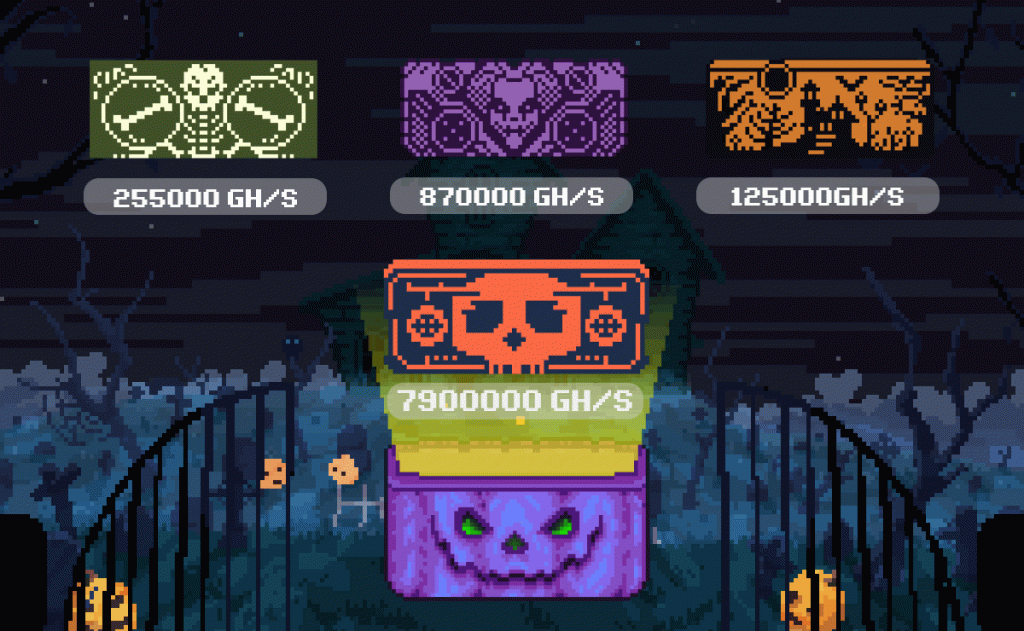 And before that there were scary guys! These beasts shouldn't be allowed out of their cage at all! 😈 🧟

Double, double toil and trouble
Fire burn and cauldron bubble!
Get Your Spooky Discount!
The entire event features a fantastic 30% discount on RLT for BTC, as well as 20% for SOL and BNB and 15% for MATIC! 🍬

Get into your costume and set off on a journey to claim your rewards!
Just remember, you've got until November 2nd, so don't miss out! 🎃
FAQ 🤔
❓How long does the event last?
❕The event will last from October 26 at 12:00 UTC to November 2 at 12:00 UTC.
❓How long does burning miners take?
❕The burning process takes 240 mins 🕐 regardless of the number of miners your burn.
❓How can I speed up the miner burning process?
❕After the burning process has begun, the player can instantly complete the burning for RLT. The cost decreases as time progresses, with every 10 minutes being valued at 1 RLT.
❓What will happen after the event ends?
❕Don't forget to pick up your rewards before the end of the event, otherwise they will also turn into ashes. All miners involved in the burning process will also disappear. And remember that all remaining ECoins and Points will be removed after the event ends, so be sure to use them before then!
❓I burned my miners, but didn't receive my reward. Why?
❕Make sure you clicked the Claim button after burning your miners!
❓What if I want my miners back?
❕Burning items is irreversible. Once a player clicks "Start Burning," they won't be able to retrieve the miners.
❓What if I set miners to burn, but it will take more time than there is left until the end of the event?
❕If you want to burn more miners but there is less than 240 minutes left until the end of the event, it's better to speed up the burning process. This is because after the event ends, you won't receive points and coins for the burned miners anymore! Also, don't forget that you need time to spend coins in the store.