Hello Rollers
Сomparing to all other social networks, Twitter stands out by it's news\info orientation.
Sometimes the news spread on Twitter much faster than on TV 📺 and official news channels.
The same thing applies to the Crypto community on Twitter, which is a big thing. Most of all crypto influencers and game-changers are hardcore posting📱on Twitter and spread the latest trends first. That's why the crypto industry relies on Twitter – because of its community, speed, and simplicity of spreading news. Our main news to spread – cute hamster game RollerCoin is a gold mine of real cryptos to everyone. Let's get to the guide checklist then
1. Define the target 🔍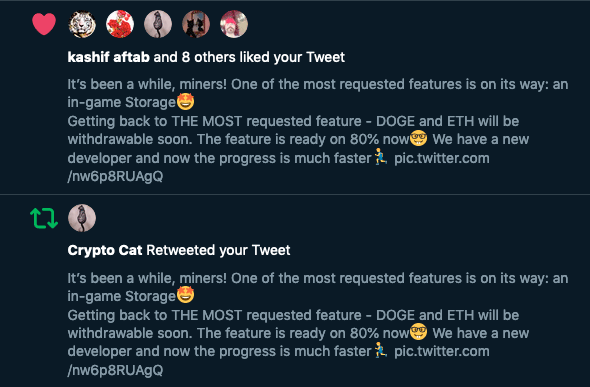 Who are the people that are interested in RollerCoin a.k.a your Target Audience? They are highly interested in crypto in general, and in crypto mining, and passive income. Another category is the lovers of 8-bit games and arcades. You've got it!
Using the search by hashtags and trending crypto keys will do the trick too, you can always go through the search panel with the most popular crypto oriented keywords, such as Bitcoin, BTC, DOGE, ETH, crypto, etc.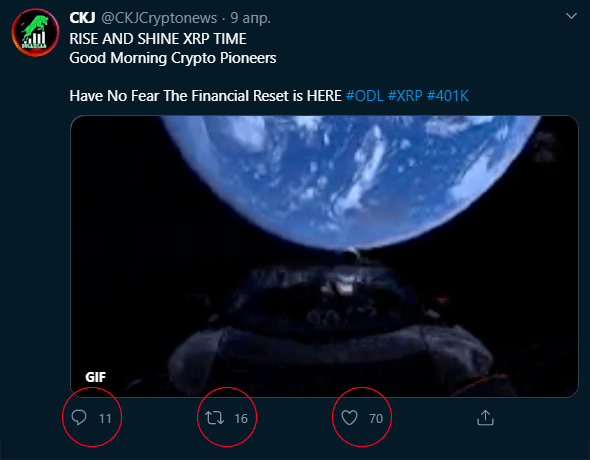 2. Do I really want to make them rich? 🤔
The thing is that people don't really like to click on referral links, because they start to feel abused, or smth like they think that somebody is taking advantage of their existence. Well, basically it's correct, but shhh (smile) we don't want to lose them, right? We recommend you shorten the link by using any service, bit.ly for example. You can and should mention in your ref messages that your referral will benefit by using your link.

One of the best key features here: if they register by your ref link – they get 200 Satoshi for free! You can use this punchline in your posts 👍
3. Best hunting places 🎯
Of course, it is a comment section of a tweet, but which tweets to choose? You have a variety of options here:
🔹️ Crypto, earnings, gaming hashtags – it takes some time but has referral results afterwards. You just need to find trending tweets in there and leave comments. Placing crypto and bitcoin hashtags in a comment is a must!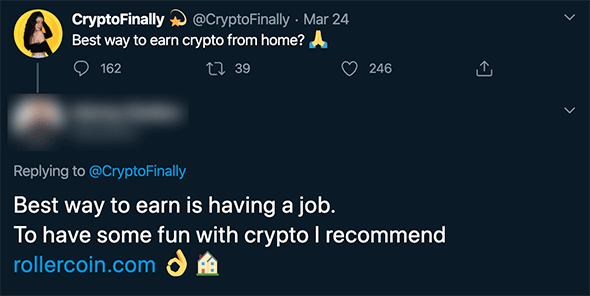 As you can see in the picture – tweets with most comments, likes, and retweets are more preferable.

🔹️ Trending offtop. This scenario is rather a no go, but if it brings you real referrals that play, mine and get you profits, why not, right?

🔹 Popular crypto players' tweets. You may look for crypto influencers and flood their comment section a bit 😉 Again – don't forget tagging #crypto, #bitcoin, #DOGE #ETH, #BTC
🔹️ The last one is the most useful in our opinion and the best-case scenario – is making a list of ~100 main influencers.Collaborate with other Rollers to comment posts of these influencers and celebrities massively and put likes under each other's posts as soon as you see them, to get more attention and get higher positions in the feed.
4. Let me do the talking💬
The absolute best practice is when you get a bit of small talk with your possible "victim" first. You could chat about crypto\games and then shoot a link with description – it's much more likely for you to catch that fish, rather than have your message drifting through the cold waters 🥶 of Twitter. Reply in popular threads, talk with people, make friends and then make some crypto 😎
As soon as you start A TALK with a crypto-influencer, be sure to reply as soon as possible to their messages. Your swift response is basically a key to the ref success 🦈
5. The message ✉️
First things first – use #Rollercoin hashtag! It boosts RollerCoin's presence in any social network THAT much! So you should just use it whenever you post about RollerCoin. You really make our game known more by that!
As soon as you see this hashtag or any post about Roller – be sure to put a like under it! Helps pretty much too 🤓

Last but not the least: your message is basically an indicator of whether the user will follow the link and proceed to actually mine in the game or not (you earn only when they are mining or purchasing equipment, remember?) Be creative, make it catchy and unique 💎 Here is a bit of example: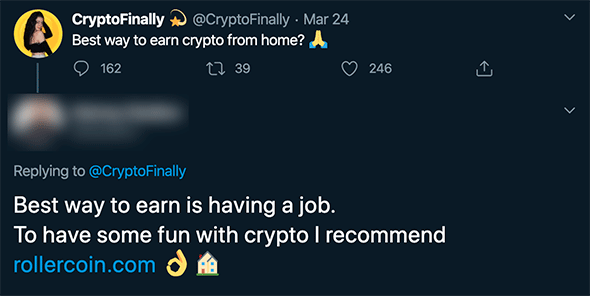 Let your message be simple, elegant but straightforward – we've made a cute hamster game, where people are actually withdrawing millions of Satoshis. Too good to be true? OF COURSE NOT, you all are the part of it!
Well, we do hope that this will help you to grow your referral base and earn more ref commissions in RollerCoin🐹
By the way, we have a referral-hunter chat in Discord, where you can find other Rollers to start building your influencer lists, learn best practices of others and cooperate on building your mining empire 🏰