Hey there, RollerArtists! 👩‍🎨
Prepare your mouses and pixels, because our Miners Art Contest is back!
Summary
The theme of the Contest — Miners Icy Lab 💎🧊
Submit your design till December 3 🗓
8+ winners and 6500 RLT reward pool!
The very best designs will be picked by Community Voting! 
Check the Style Guidelines and Technical Guide blocks for some essential tips 🤓 
More Wins, More Rewards! 🏆
Just like in the previous contest, there are 3 main categories your awesome designs could fall into 👇
Community Case
Top 8 coolest miners will be included in an exclusive Community Case, which will go on sale with the start of next Season!
Besides, their creators will also receive:

🔸 Huge portions of RLT 🤑
🔸 A copy of their miner 🎨

Meet the list of rewards 👇
Place
Miner`s rarity
Reward
1
Legendary
1500 RLT
2
Epic
1300 RLT
3
Epic
1200 RLT
4
Rare
800 RLT
5
Rare
600 RLT
6
Common
500 RLT
7
Common
300 RLT
8
Common
300 RLT
Event Miners
Up next, we've got the Event Miners category, and these miners will find their way into upcoming events, Crafting Offers, and Sales! 😉
There's no limit on the number of miners here – the more awesome miners we get, the more we'll bring into the game! For every miner added to the game from this category, creators will get:
🔸 250 RLT
🔸 A copy of their miner 🎨
Honorable Mentions
These are the cool miners that, for various reasons (technical or thematic), we can't add to the game. But they're so amazing that we want everyone to see them! 👁
Each of these honorable mentions will receive up to 1500 RST as a nod to their creativity 🤩💸
 The Theme of The Contest — Miners Icy Lab
Big power demands… big cooling! ❄🧊

Hamster has found an Icy Lab in the deep North, full of amazing ice-cold mechanisms, and thought that this place should now make miners!
✨🧊 Let Them Sparkle! Get inspired by the beauty of ice! Frozen landscapes 💎 and shining crystals… Do you hear the Winter bells calling? ❄
Your Vote Holds the Power!
The very best designs for Season 11's Community Case will be picked by Community Voting at the end of the Contest!
So keep your eyes on our socials not to miss it 👁👁
Technical Requirements
Now that you have a clear idea of your miner design, you need to understand the technical criteria for creating a miner!

These requirements are quite simple, check out our Technical Guide for all the necessary information 👇
The rules stated in the Technical Guide must be strictly followed.
Style Guidelines
We've got all the technical details sorted, but how do you bring that picture-perfect design to life?
Here are the main points you need to follow to make your work of art become a part of RollerCoin forever! 👁👇
Important Note: don't forget about 1-cell miners when creating your designs.They could stand a higher chance of making it to the final vote 😉
Design a Miner!
Literally, your design should take the form of a miner 📼 with a touch of rolling fun.
🔹 Show Your Originality
Your artwork MUST be uniquely yours © – not copied from anywhere else! 🖼️
Avoid imitating past contest winners or borrowing style elements. We want your own creative vision! 🌟
🔹 Keep it Simple and Clear
Make a solid and polished miner design.
🔹 Animation:
Seamless and relevant animations. Each frame should naturally flow from the previous one. And let's skip the disclaimers – no need to warn about blinking lights. ✨🚫

Here are some winners of the previous Contests, as an example of great design and cool animation, just to get you inspired 😉👇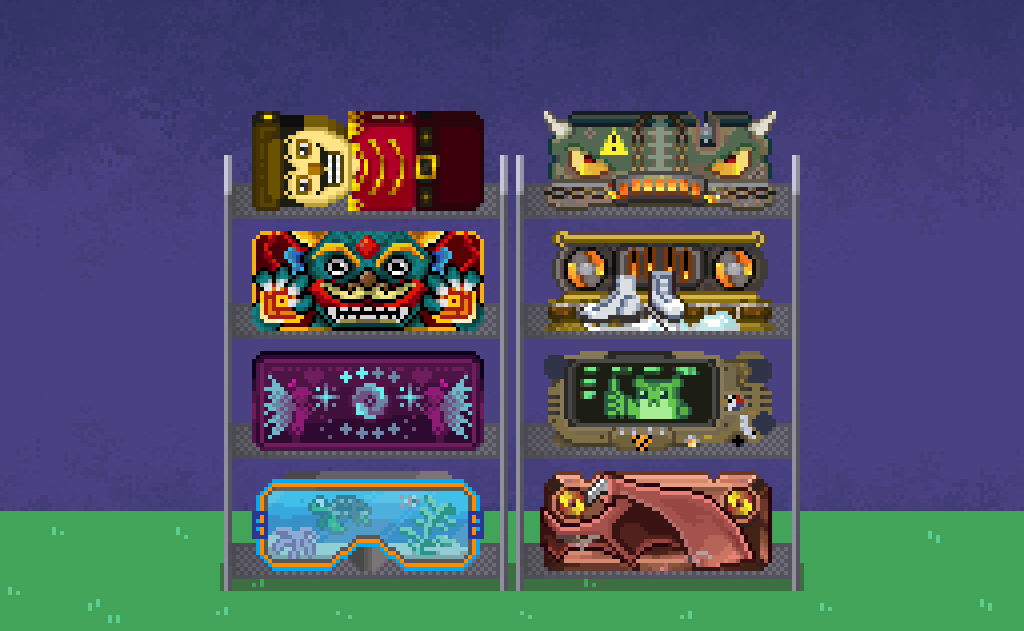 You can find out more about the criteria by which your miner will be evaluated in our guide here 👇
 Reveal the Inner Kitchen of Working On Your Miner
Show us the birth of your art 🐣 your inspiration 🦋 and process in detail!
Share your sources of inspiration 🤖: send photos, art, videos, anything that inspired you! 
This point is a mandatory part of participation in the Miners Art Contest.
 Document Your Process (optional)
Show that your work is unique, send step-by-step screenshots of your creation process, reveal secret details and get extra rewards for it 🎁
his point is an optional part of participation in the Miners Art Contest.
 The Final Checkpoint
Now that your super cool miner is ready, it's worth checking the following to avoid curiosities 👀

🔹 Does it technically meet all the requirements?
🔹 Does the animation work correctly — without breaks, etc.?
🔹 What does the miner look like on the shelf in the RollerCoin room?
🔹 Have you made a frame with a switched-off miner (a picture of the miner at the moment when it turns off without electricity)?
 It's Time To Submit!
So now that your miner is ready 🥳 and all the references and secrets of your masterpiece are revealed it's time to submit your work and cross your fingers for the win! 🤞
From today until December 3, we accept your artworks!