Ola, Rollers! 🐹
We have traveled through space and time together in previous seasons, but now we are discovering the beauty of our homeland — Earth! 🌏
Today we invite you to Brazil 🇧🇷 but that won't be a carnival tour.
We are getting you to the jungle, where amazing beauty and horrifying danger are waiting behind every tree! 😲
Get your tourist equipment and watch out! That thing hanging over there might be a snake — not a liana 🐍
Feel the Power of the Jungle!
Are you ready to discover the true treasure of the Amazon Jungles? Start a new exciting journey with Hamster-explorer and our special Brazil Weekly Offers 🤩
The true Jungle King and Dancing Queen are ready to bring the true Carnival vibes to your mining room and fill it with the wild power of Jungles! 🦜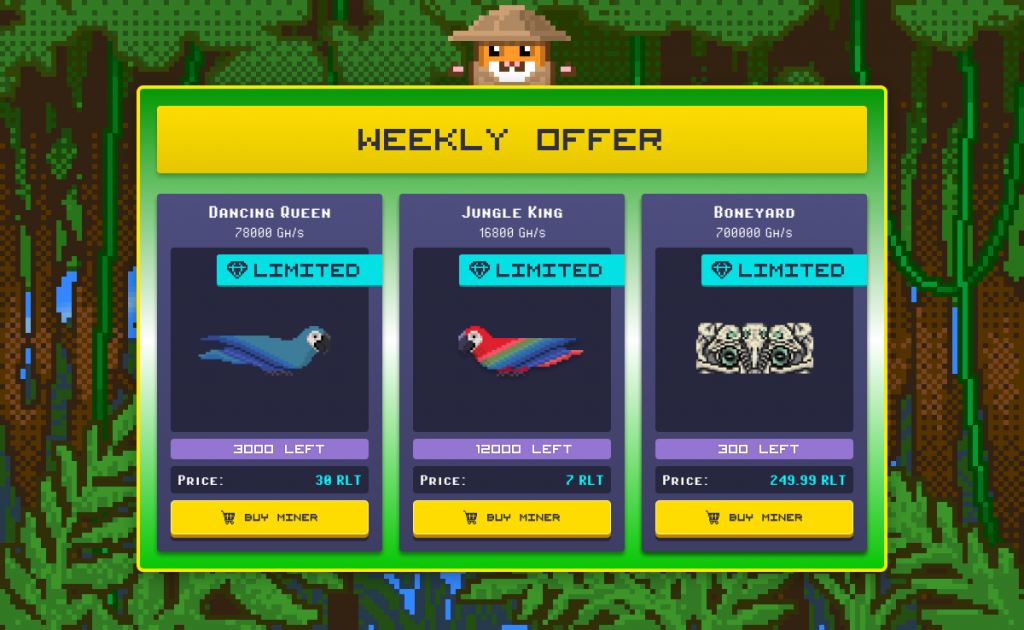 A Special Gift for the True Jungle-Explorers!
You do not want a poisonous snake to fall on your head, Roller, doesn't it? Our Snake Protector Hat is waiting for you in the Store to protect you during this thrilling adventure! 😉

WILD discounts!
This journey should bring both fun and profit! That is why we decided to make a huge sale! 🤑
Up to 70% discounts in the Store right now, so it's your chance to get the miner you dreamed of for the lowest price ever! 👍
There are plenty of items on this big sale now, so go and get everything you want!
Don't wait any longer, Roller, start exploring the wild world of Brazilian Jungles right now! 🤩👇