Hey Rollers!

We continue our rubric Q&A Sessions, where any player can ask questions to RollerCoin admin and receive a public answer! You guys have sent a lot of interesting questions, which we are glad to answer today, enjoy!
What is the time zone with which the server works since in some countries the games begin to be subtracted but I do not know the exact time?
– NicolachoPro

Hey NicolachoPro! The server time is set to UTC +0!
– RollerCoin Admin

Roller coin rocks! Thank you guys for this awesome platform! Are you guys thinking about occasionally doing RLT airdrops or other ways of obtaining free RLT besides mining or purchasing? Would be super rad for us broke folk
– RedRo

Hey Redro, thank you for the warm words! Yes, there are ways to get RLT for free already, but we consider more options often! We do some raffles and giveaways on socials, run events with free RLT in lootboxes and some players receive RLT for free as compensation for delay in ETH and USDt transactions.
– RollerCoin Admin
I heard some players have deposited USDt and ETH and are waiting for a long time to appear on balance. Some players have received it from support, what about others? Have you fixed the node already?
– KEET

Hey KEET! Yes, our ETH node went down for quite a while, so a lot of players had their deposits frozen, unfortunately. ETH node is fixed completely now, and all ETH withdrawals and deposits are processed already! USDt deposits had to be added manually by support and some of them are not added yet, so if anyone has a pending deposit in USDt – please send an email to support@rollercoin.com so we could assist you!
– RollerCoin Admin
I have a big QUESTION . I believe everyone prefers my question . Could you spoil a little bit about the upcoming RollerCoin ? I wish this event will come as soon as possible. Patience for the next event
– OOPSKICK

Hey OOPSKICK! Thanks for your question! Ohh my, we are preparing something really special for the upcoming event, which will take place in the mid of June! It will be the first time we launch this game mechanics to RollerCoin ever!
Not going to tell everything, but one thing will be spoiled now: We prepare something like a battlepass with an insane amount of prizes there!
– RollerCoin Admin
Hello, I invited 2 friends to participate in the game who joined my referral link, unfortunately, they were not added to my account as referrals, what is the reason? Thank you in advance for your answer.
– Lukzol91

Hey Lukzol91! There are some tricky things about the referral program that don't rely on us. When you send a link to somebody in messenger, for example, and your friend has clicked on it, the messenger may damage the link and lead them to the home page of Rollercoin without your referral link ;( It happens on Facebook for sure and many other messengers as well. With that said: be sure that your friends copy and paste the link, rather than clicking it!
– RollerCoin Admin
How do we split our power in 3 crypto like my total power is 165.345 I want to split into 3 half in btc half in etc and half in dog but I can't do that plz tell me which method I split my power. Thank you
– Khan defaulter

Hey Khan defaulter! Splitting your power between 3 cryptos equally is easy as pie! Well, almost equally 😀
You just have to split it like 33 to BTC, 33 to DOGE, 34 to ETH. Or 33 to ETH and 1 RLT, if you want to keep it really equal!
If you want to split true equal between 4 coins, you can go for 25 BTC, 25 DOGE, 25 ETH, 25 RLT!
– RollerCoin Admin
Hello rollerteam! my mining in doge decreased to 0. When I look at expected rewards, it shows 0, but the balance is increasing, what is happening? – H3
– JohnyDo

Hey JohnyDo, thanks for the question! The expected reward is showing 0 in DOGE because we have a fixed digits amount on the screen. The DOGE reward from a block, for example, may be 0,000004325, but the system only shows 0,00000 due it's limit. You still receive a reward, but expected reward is not displayed correctly, we are aware and will fix it!
– RollerCoin Admin
Do different cryptos have different mining rates ? like the amount we actually receives varies or what does the power mean for each coin since their all different
– ImBoof
Hey ImBoof! That's correct, rewards are calculated separately in each coin, based on the mining pool size. Your rewards are calculated by the amount of power that you allocated in a single crypto VS the whole mining pool. Below is the current mining pool of every coin in the game.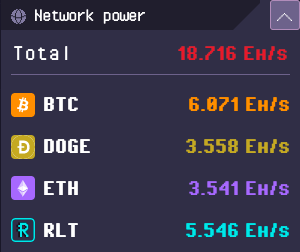 Let's imagine that you have 400,000 Th/s, and you split it equally between all coins. It goes for 100,000 TH/s for a coin, equals 0,1 Eh/s.
The block reward in RLT is 30 RLT every 10 minutes. That means that your reward in RLT will be 30/(5,546 / 0,1) = 0,54 RLT every 10 minutes. Multiply it by 6 to know your reward in an hour = 3.3 RLT with that amount of power.
– RollerCoin Admin

Thanks for your attention, Rollers and see you in the next episode of Q&A Sessions!
You are welcome to send your questions by filling up the special form below!