Greetings, Rollers! 🐹
So, Marketplace 🥳 So long-awaited, so discussed, and so vital for our ecosystem — isn't it? 🤩
Now your Mining Empire can finally evolve, when you sell your old miners and get yourself new powerful ones! 💪
Or maybe you're a newbie, and buying miners in our store is not an option yet? Well, in the Marketplace you may find a lot of wonderful and cheap pieces to start with 🤑
Fill your racks with miners, try the new Merge system and watch your wallets getting filled with coins!
What Is Marketplace?
A market where you can sell and buy in-game items is a great opportunity to keep your mining balanced.
Do you have an old miner that you want to sell? 🤔 Or, maybe, you need some RLT right now, so you need to sell some parts' leftovers after merging? Or you want to find some lots cheaper than in the Store?
Welcome to the Marketplace! 💫
What Can You Trade?
Long story short — you can trade:
👉 Miners ⛏
👉 Racks 🪜
👉 Parts ⚙️
To sell something, you set the lot and simply wait until someone buys it from you 🤝To buy — just search for what you need and take it if the price is good!
How To Buy?
1️⃣ To start, click the Marketplace button here:

2️⃣ Choose the Buy tab in the left Menu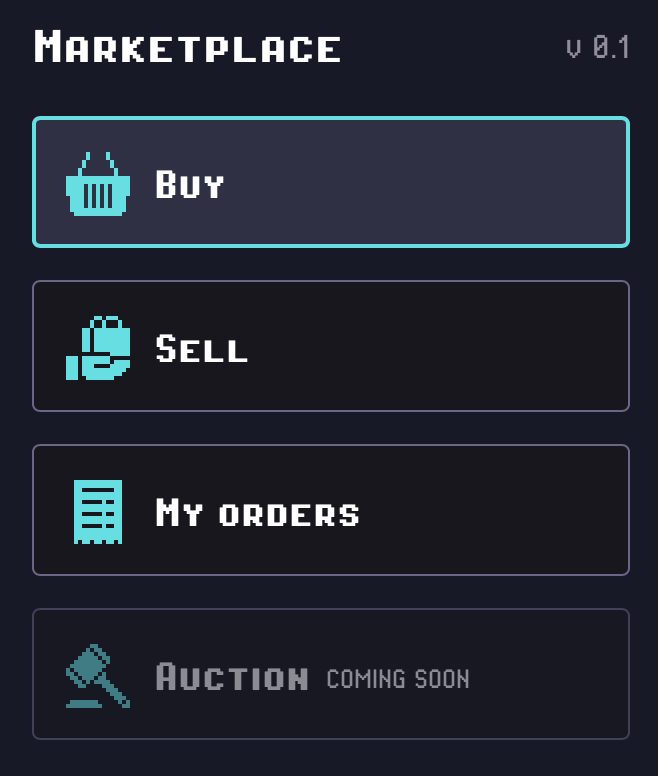 Here you can find all the items put for sale 👍
3️⃣ Change the settings according to your needs, choose which type of items you want to see, range the price from the lowest to the highest, or even type the name of the miner you wish to buy and find all the relevant offers! 📃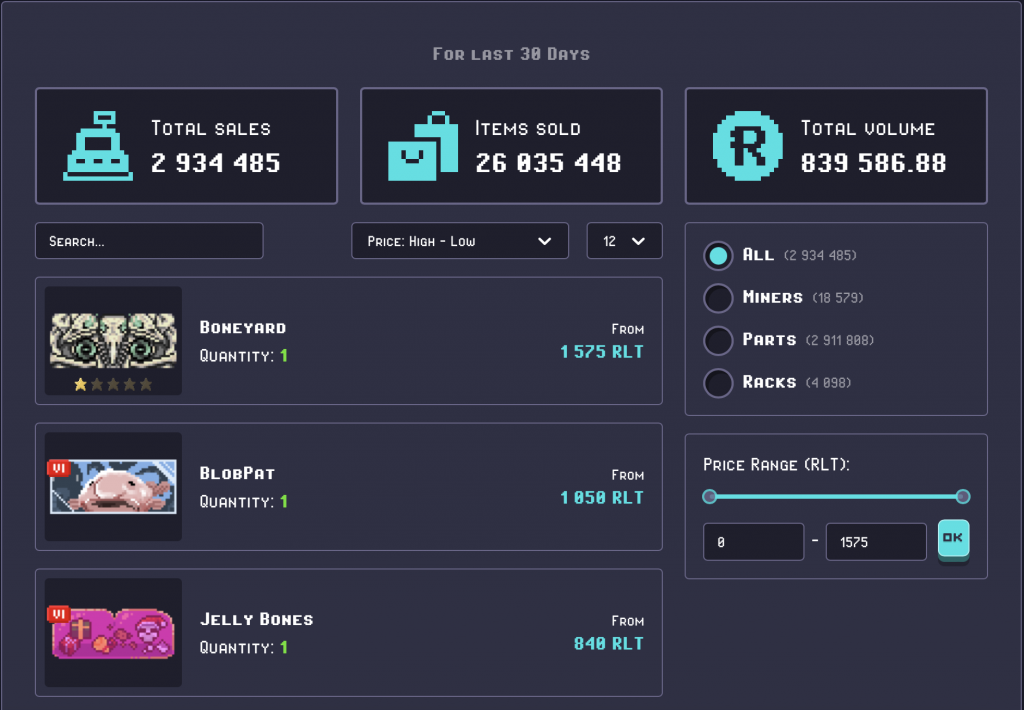 To buy any lot — simply click on it, check the details, and if you are OK with them — click the Buy button. You should have enough RLT on your account, of course 😉
How To Sell?
1️⃣ Go to the Sell tab
Here you will see a list of miners, parts, and racks which are available for selling on the market.
❕ Please note that you need to move your items to the Items Panel first, and only after that they will appear in your Sell tab.
2️⃣ Choose the item that you want to sell and press the Sell button
In the appeared window, you will find:
👉 the Characteristics of the chosen item (the Merge level of the item and the number of items that you have)
👉 In the table on the right, you can check the total amount of this type of items, that are being sold on the Marketplace right now, and their prices.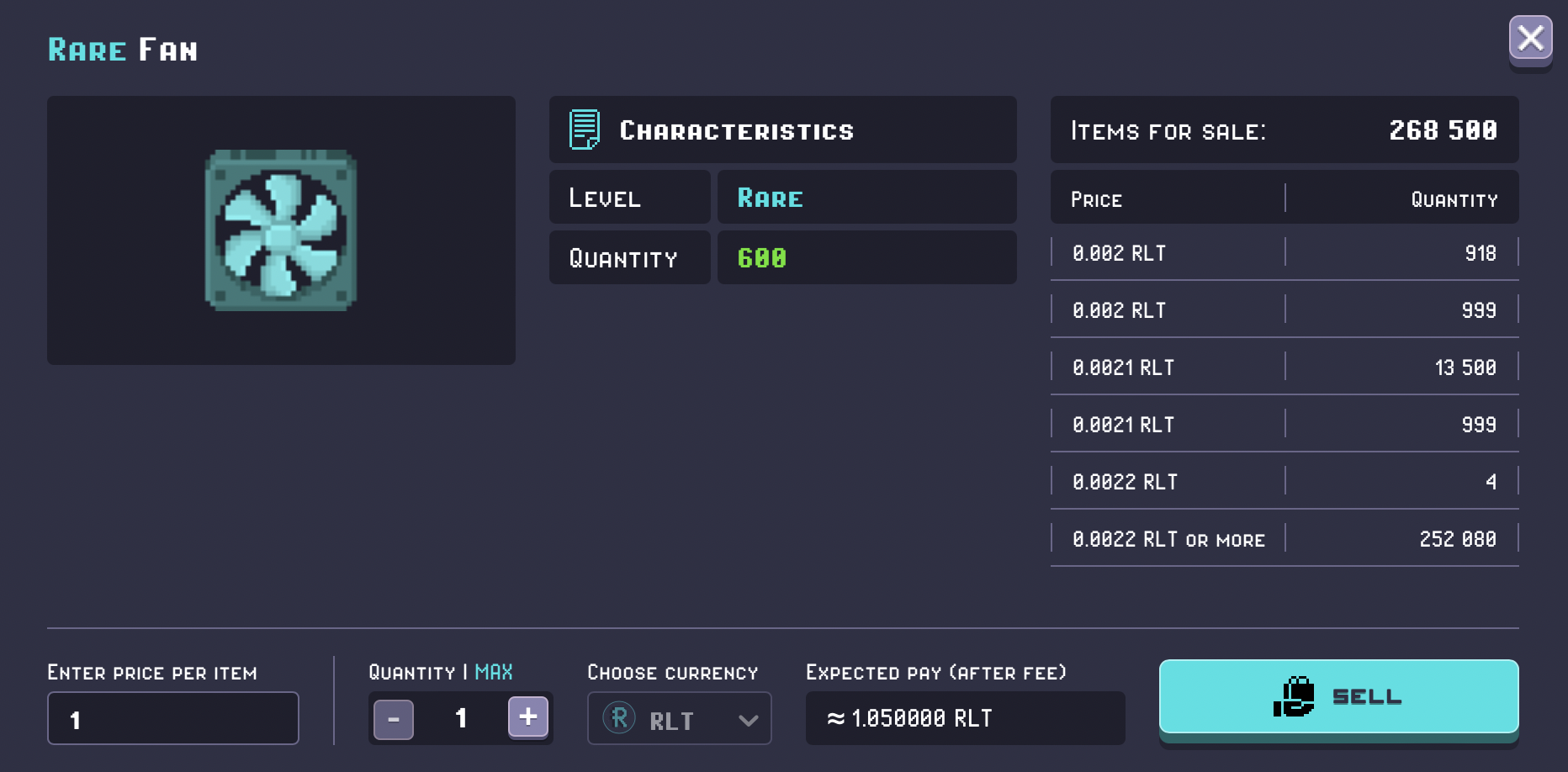 3️⃣ Set a price for a single item and the number of items you want to sell
❕ After that, you will see the Expected Pay — the total price, which also includes a 5% fee.
4️⃣ Press the Sell button

Done! The lot is set and available for everyone on the market. Just wait for your RLT now!
And What About Referral Commissions?
There is a 1% referral commission that you will get from each sale that your referrals make! 🤑
Is That All?
The first public beta of Marketplace is released! But a lot of updates are coming ahead, and of course, feel free to share your feedback after you try this new feature!
RollerCoin Team wishes you a lot of profitable deals!
Stay tuned!