Howdy, Rollers! 🤟
Season IV: Time Travel! is coming to its end, and you might be wondering what is next? What to expect on RollerCoin in the near future? 🤔
Spoiler: A lot of amazing stuff is coming! 💥
Today, we want to discuss with you all the upcoming updates and features we plan to roll out soon!
🐹 Let's go, Rollers! 
Summary
Economic Updates. There are big changes coming!

Collections Rework
Drops from Games
Crafting 2.0

Marketplace. When to expect and how it will look like 👀  
Matic and Solana deposits & withdrawals
Future Seasons and mini-events. Summer Events Roadmap is waiting for you to make sure you won't miss anything! 😉
RollerCoin Economic updates
The global economic update is coming! 😲
We are currently working on fully rebalancing the game economy to make sure every single player receives the proper and fair rewards! 💰 
The update will include Collections and Crafting rework, changes in Drops mechanics, and much more!
Collections rework
There are a few important Collections updates we plan to release in order to lower the percentage of Bonus power and rebalance rewards which players receive from games.  
Here is the first one, which is going to be implemented in the near future 👇
Miners from the player's Inventory will no longer give a Collection bonus. This means that only those miners placed on the racks will give you Mining Power and Bonus Power percent 📈
Drops from games
Drops mechanic is going to be changed completely! 
We want to make receiving Drops form games more predictable for our players, so you will always know what you are playing for! 🎁
This summer we are going to release a new major event, where players will be able to know which Bonus they are going to receive from games! 🕹
Crafting 2.0
A new era of Crafting is coming 💫
It's going to be fully reworked! ⚒️ From the complete visual upgrade to the new types of Parts, new crafting rules and even more bonuses for having upgraded miners in your room! Here is your first early look at the new crafting system: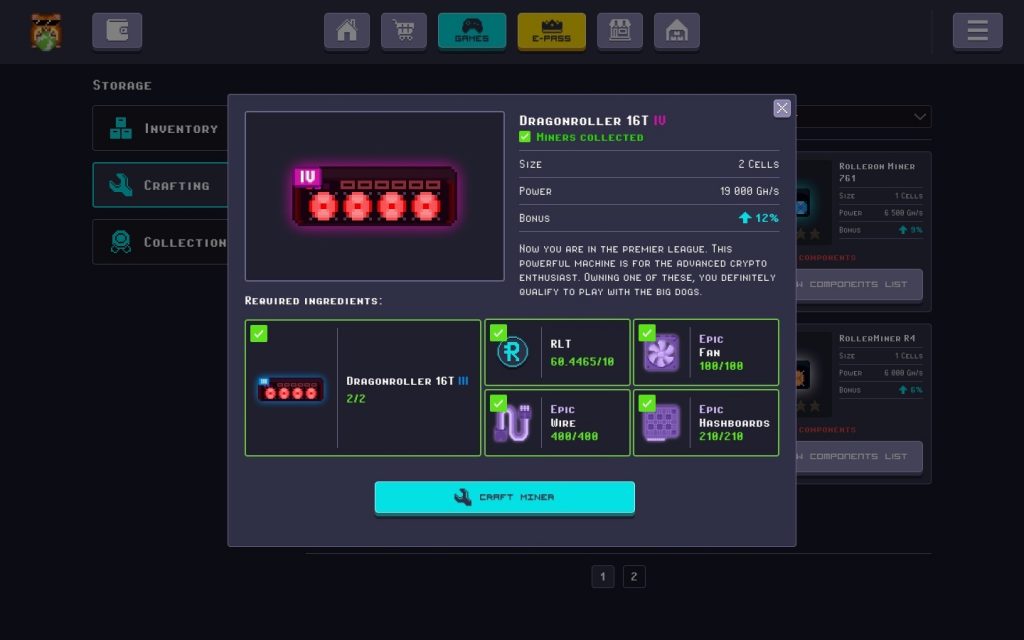 Everyone wants it! The Marketplace
🔥 The hottest question is: What is about the Marketplace? Is it going to be released? 
The answer is yes! This feature is going to be a complete game changer for all the players, so we want to polish every single detail before adding it to the game! 
👉 The Marketplace is going to be released in a separate major update along with the above economic updates. Here is your first early look:
Matic and Solana Deposits & Withdrawals
MATIC and SOLANA deposits & withdrawals need a bit more time to be implemented into the game, so they won't become available right with the start of Season V. 
But no worries, since we keep working on it and will release this feature as a separate big update! 🤩
Meanwhile, you still have a bit more time to accumulate your funds and withdraw them once the crypto market gets back to normal! 🤑
Future Seasons and mini-events
This summer is going to be hot! 🔥 We have prepared A LOT of events, so there won't be even a single day without some cool action 💯
Every new Season from now on is going to include an unprecedented amount of events, coming at you one by one! 🤩