Hey, hey, Rollers! 🐹
The Hamster holds out his paw to you 🤗 and invites all Rollers to the dance floor 🕺 to celebrate the opening of the new Season 7 — Prime Time! 🌟
Show how you can move under the twinkling lights of a disco ball 🪩 🎶
This time, meet the NEW Season Store and Event Quests Updates, as well as modernized racks which will give additional Power ✨ 
And the most delicious thing is a new coin! 🪙
Let's Groove! 🕺🕺

Season 7 Summary
Brand-New Season Pass. It's Time For Disco! 🪩

A set of fantastic disco miners!
Fully updated Season Store and new Parts Cases.  
Updated Event Quests along with Daily&Weekly Quests changes. Even more ways to get crypto rewards 🤑
The long-awaited Community Case! ❄️

A new coin for mining 🪙
Fully updated Racks!
Brand-New Season Pass. It's Time For Disco!
Prepare Your Boogie Shoes and let's hit the dance floor now! 💃🕺
A set of 7 fantastic miners will bring you unimaginable 2 441 410 Gh/s of mining power and good old disco vibes! 🪩
Image
Parameters

Doggie-Woogie


10 Gh/s

Radio Gaga


15 400 Gh/s

Disco-Roll


36 300 Gh/s

Helipop


78 500 Gh/s

YMCA Game


114 000 Gh/s

Vinylla 78-RPM


152 550 Gh/s

Gandhi's Splittie


213 600 Gh/s
But it's not all about seasonal miners! 😉
Grab as many prizes as ever before: now the Season Pass has 60 rewards, and 36 of them are totally free to get, including some of season miners and all RLT portions! 😱
Complete Event Pass, and your grab Bonus Power 📈 memorable trophies 🏆 portions of RLT and RST, and a new night Disco Club in your mining room!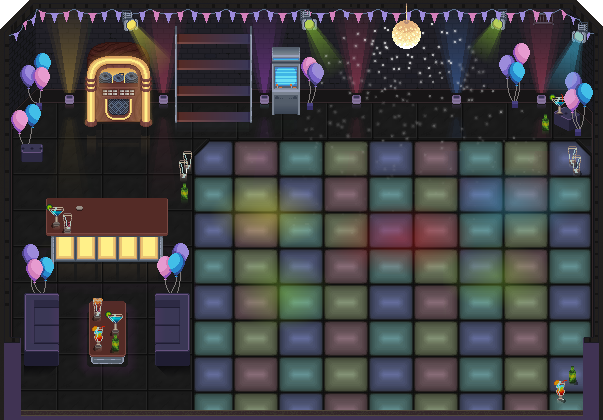 Upgrade Your Event Pass!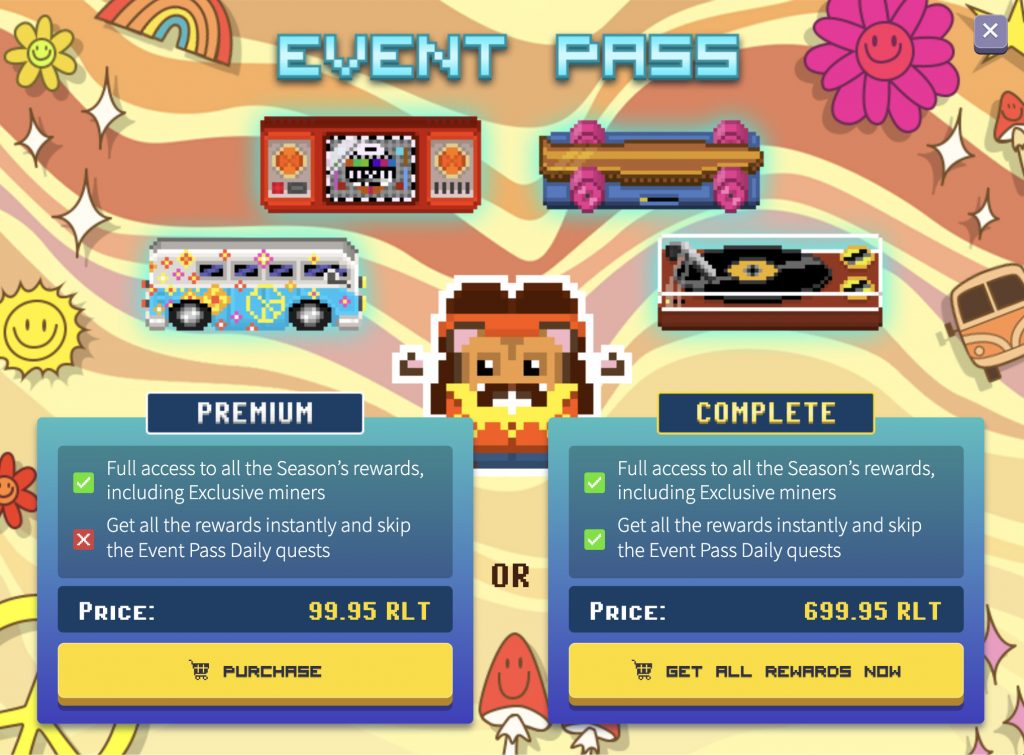 You can access all the Premium Season rewards, including a set of exclusive miners for only 99.95 RLT 💫
But that's not the only way 😏 if you don't want to complete all the levels! The other way is getting ALL REWARDS instantly by purchasing the Complete Event Pass for just 699.95 RLT! 🤝
Get All Rewards Up to Four Times!
If one set of rewards is not enough for you, press the "Get All rewards again" button up to three times, and so, you'll end up with 4 sets of exclusive rewards! 🎁
Meet the Season Store Updates!
What else can be done with the Season Store, you may ask? 🤔
Well, have you ever been in a situation, when you are desperately trying to get, for example, some Hashboards from the Case, but Fans keep coming? 😢
Forget it! 😎🤘
Cases will now be divided into THREE kinds! 😱 That's right – you will 100% get the Parts ⚙️ you need purchasing the right Case! 🤩
| | |
| --- | --- |
| Image | Case |
| | Common Hashboards Case |
| | Common Fans Case |
| | Common Wires Case |
And that's not all, Rollers… 😉 Each case will cost 40 RST 🥳
Cases now are much cheaper! So as the Community Case! 👍
✨ Also:
👉 RST will be redesigned, so don't be surprised about it – you'll love it!
👉 All RST will be wiped – bet you've heard about that.
👉 And another important thing to mention – RST referral commission is now off, so be attentive!
But don't worry about that – you'll get enough RST even without your referrals! ❤️‍🔥
Quests Updates
🔥 Event, Daily&Weekly Quests also got some changes, so you definitely won't get bored! 😉
Completing levels will get a little easier now since you need only 350 XP to get to the next level 😎
And the sweet cherry 🍒 on top of this Disco-Cake – you can be rewarded with CRYPTO during Season Events! 🤑

Oh… and don't worry about your unfinished quests, they will remain active till Monday. New event quests – on Monday 😏
You Chose – We Added! Meet the New Coin — LTC
A great event we held recently 🪙 Choose Your Coin 🪙 gave all of us the beloved crypto by most of you – Litecoin! 🥰
LTC is now with us, so split your Power wisely to get as much LTC as you can – that's what it all was about, right, Miners? 💵
Meet the Increased Block Rewards!
Of course, the New Season cannot do without an increase in block rewards 📈
Now block rewards will be increased by 25% 🙌 Keep in mind ☝️ that this is not for each block individually, but the amount of ALL block rewards, including the new LTC coin 🪙🤑 
As a result, the sum of all rewards together with LTC will be + 25% 🤩
Now let's take a look at the new block rewards 👀👇
BTC: → 32500 SAT
ETH: → 0.0055
DOGE: → 60
BNB: → 0.025
MATIC: → 4
SOL: → 0.1
TRX: → 60
LTC: → 0.015
But this is just a start for the rewards 😎 Remember that Block Rewards will be increased three more times! 🤑
Brand-New Racks Are Coming!
Wow, here is something absolutely unprecedented! ✨
We have prepared completely new racks for you, which will affect your mining process positively 🙌 and we have also given new names to the racks already known to you!
The new modernized racks have 8 cells and give additional power to all the miners installed on it 💪
📍 This is bonus power, and therefore it does not multiply with the usual bonus power, but adds it up!
So let's take a look at the design of the new racks 👇
| | | |
| --- | --- | --- |
| Rack | Name | Rack Bonus |
| | Wonder Rack 8 | 0.5% |
| | Jet-Black Rack 8 | 1% |
| | Hasher Rack 8 | 1% |
Very SOON they will be available, so stay tuned! 🙏
Is That All?
Dear Rollers!
As always, we still have a lot to tell and present to you 🙌 Therefore, stay with us and follow the news in our socials! 
A whole bunch of new events, updates and rewards are waiting for you!🌟
So… Ba-dee-ya, it is never a cloudy day with RollerCoin! 🕺🎶