Hey Rollers!
The Hamster offers to once again celebrate the Lunar New Year together! 🐲🌟
Respecting Chinese traditions, let's lift our spirits with a new thematic event, because we will receive great rewards for it! 🙌
And this story will be two wonderful weeks long (23 Jan – 05 Feb)!
So follow the lanterns in the sky! 🏮☁️
Oh, Those Magical Fireworks Over the City! 🎆
Let's begin a new Progression Event not only with the Hamster, but also with a rabbit, because this is its year, as you know 🐰🤝🐹
Here is the Lunar New Year💫 — an event in which you play games → collect points by completing various tasks → receive incredible rewards! 🎁
You have no idea what good rewards are waiting for you! 🌟
What Is The Secret To Getting A Lot Of Points?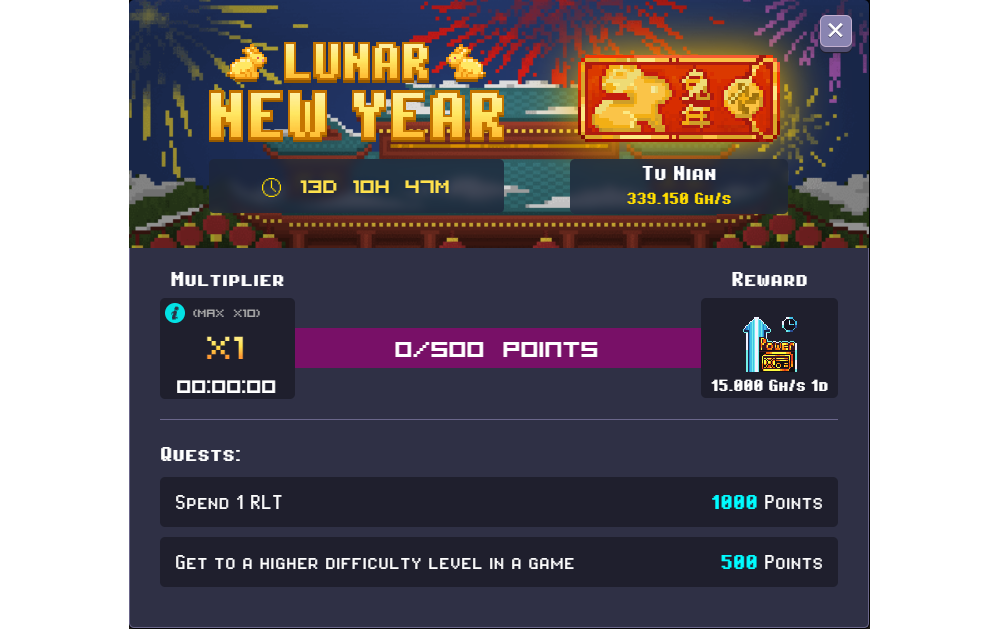 Some of you will say that you already know these rules by heart, but let's repeat them anyway! 👇
🐉 Get 500 points for each level passed in mini-games! 
Play some mini-games and pass the levels to gain points! Each completed difficulty level will add 500 points to your progression bar.
Completed all the levels in all games? You are really an example! 
So it's time to relax and drink hot chocolate ☕️ But come back when the levels in your games reset!
🐉 Get 1000 points for each RLT you spent!
Spend RLT andfill in your progression bar to get even more rewards!
Buy unique miners on the Marketplace!
Merge miners and parts!
Complete Event Quests!
Get yourself a couple of miners from Weekly and Crafting Offers!
Players will get 1 point for each spent 0.001 RLT. So, for example, if a player bought a miner for 4.47 RLT, he would receive 4470 points.
Someone will say that this is not all and it is true!
How Multipliers Can Help?

Now we should mention the Multiplier 🧐
Remember: each 1 RLT that your purchased will give you +x0.1 to your points 📈
For example, after purchasing 10 RLT you will receive + x1 multiplier.
Each multiplier is valid for 1 hour, but players can maintain and increase it at the same time by opening one more Сase before the timer ends.
🐲 The maximum multiplier can be obtained for 90 RLT.
It seems that these are rewards from the Rabbit… Get them all! 🐇
This Progression Event will bring our Rollers a huge amount of Bonus Power, a bunch of RLT and RST, incredible miners and Event Pass EXP! 🌟

But most importantly, it will make you happy, which in turn will make us happy too 🐹❤️

So, launch your own lantern into the sky in honor of the Lunar New Year! 🏮✨