Ho-ho-ho, Rollers!
Santa Hamster is coming to town! Celebrate Christmas with the biggest RollerCoin update ever!
The number of new features is truly significant and our team worked day and night to prepare everything just in time for the Holidays, so we want to thank everyone for their patience and loyalty 💙
Adding a new game, implementation of Merge Mechanic into RollerCoin economy, interface changes and much more features are waiting for you along with the most festive and wonderful Season of the year 🎉
Watch the trailer to the biggest major update in RollerCoin:
Event Pass: Christmas Time! Season III
Christmas is a season of wonder and we prepared something really wonderful for our players ✨
New DAILY Tasks
We have completely changed the Event Quests structure in Season III. Weekly Tasks have been finally transformed into Daily Tasks!

The list of tasks will be refreshed every day now, along with the types of them, so players will get more freedom to complete their favorite tasks and skip the ones they don't like.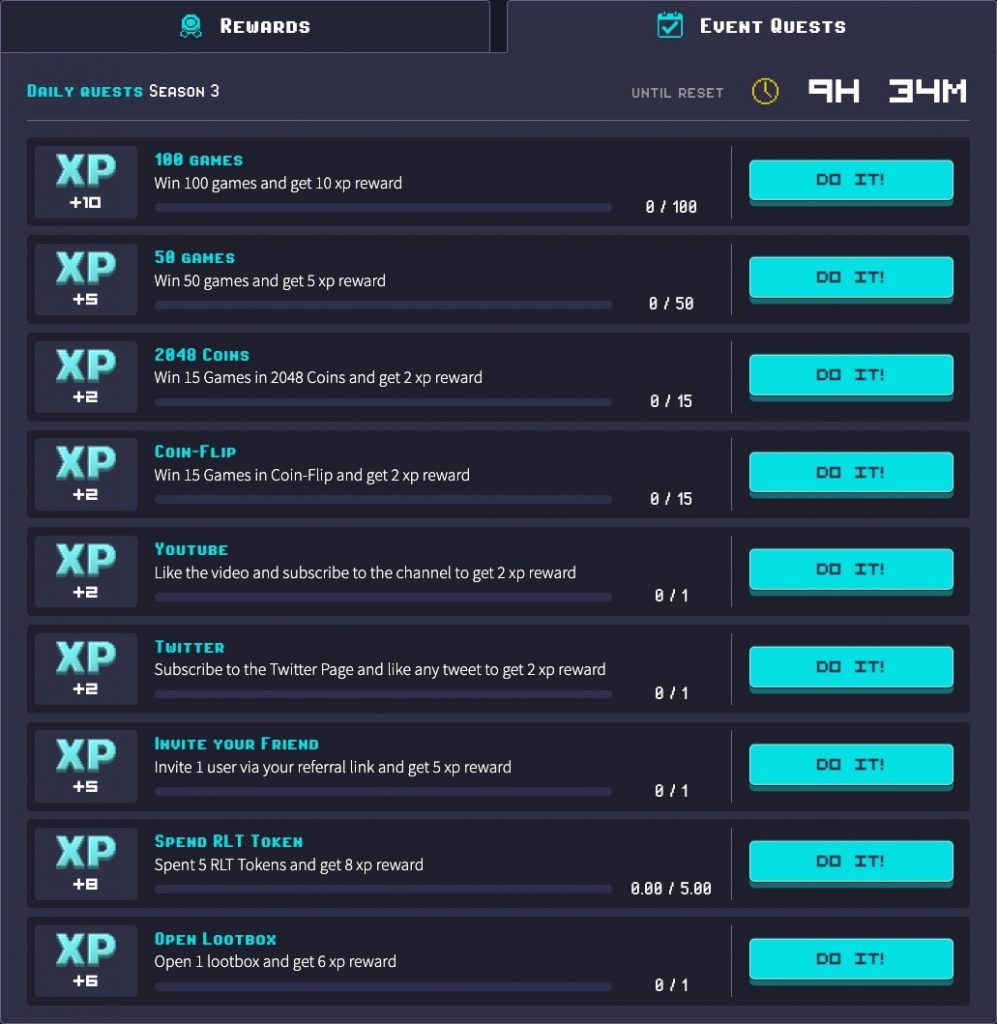 New Daily XP Bonuses
Get even more XP by visiting the game and receiving the new rebalanced Daily Login Bonuses!
New Rewards
The event is free to join, just open the Event Pass page and click on Get Season Pass For Free!
Free pass in Season IIl allows to get a lot of rewards, including free RLT and 6 miners 😱
Upgrade Season pass to collect even more mining machines, Bonus power and the main Santa's present — an exclusive set of the Christmas time miners! 🎁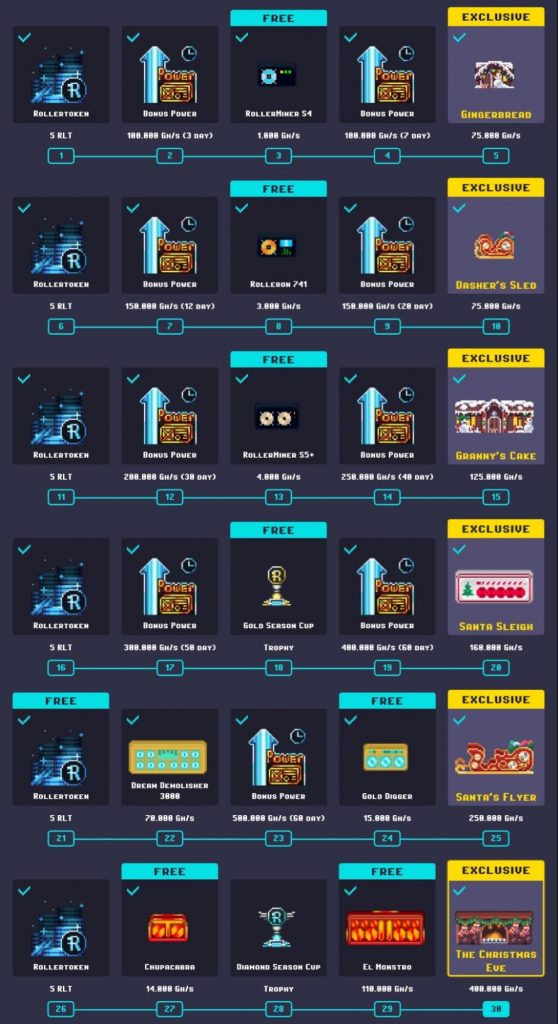 The upgraded season pass is the most cost-effective ever. It costs 99,99 RLT only, twice cheaper than Season II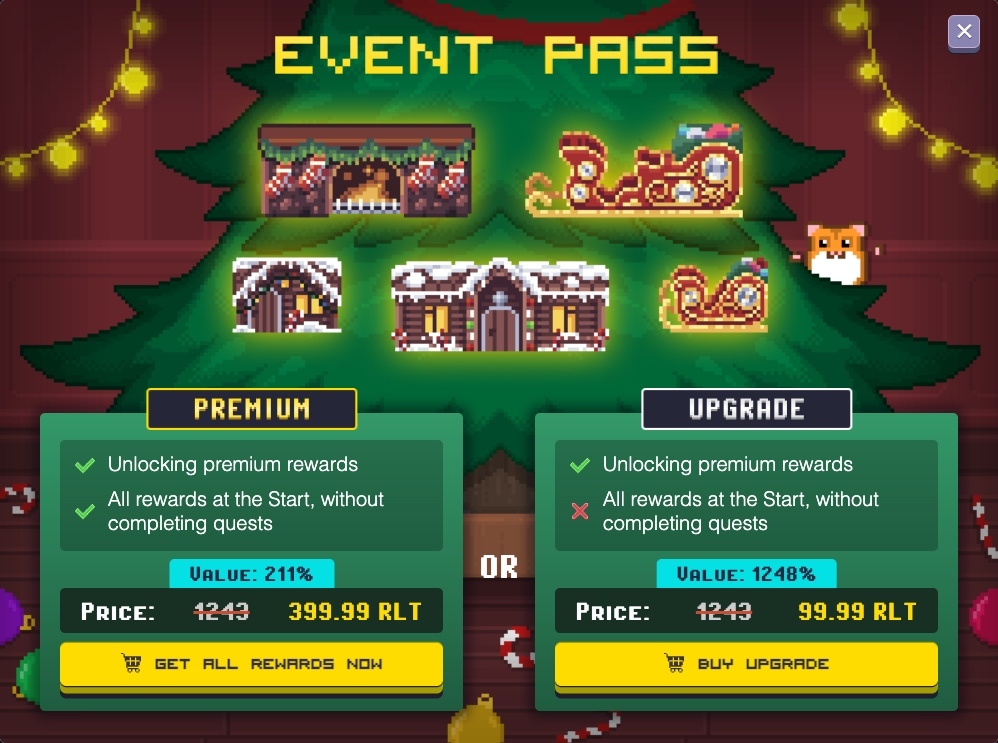 The Premium Event Pass allows you to get ALL REWARDS instantly, without the need to complete quests each day.
Airdrop for the top players
Earlier we promised to hold a special Airdrop for players that are on the top of the leaderboard. And we keep our promise!
The top players get a chance to test the Merge mechanic system ahead of others! Check your Inventory, your presents are waiting for you!
The number of players to receive miners for merging and the amount of miners they receive according to their place in the Leaderboard are in the list below:
| | |
| --- | --- |
| Place in the Leaderboard | RollerArc SX miners |
| 1 | 26 |
| 2 | 22 |
| 3 | 18 |
| 4-10 | 16 |
| 11-25 | 14 |
| 25-100 | 12 |
| 101-250 | 10 |
| 251-1000 | 8 |
| 1001-1500 | 6 |
| 1501-3000 | 4 |
| 3001-6000 | 2 |
Other changes
There is a looooong list of all the other changes coming with the start of Season III:
Drops from minigames (including miners!)
New Lambo Rider mini game
Redesigned Inventory and Collections pages
Ability to merge your miners
MATIC: new coin for mining
BNB deposits and withdrawals
New deposit method: adding BUSD coin
The return of Weekly offers
Lots of other small tweaks and changes

And we will cover all of them in detail in our blog posts so be sure not to miss them!
Happy holidays, Rollers!
That's all Santa Hamster has prepared for you, we hope you will love this Season and get into the Holiday mining spirit along with us!

Good luck and Merry Christmas! 🎄