Hello Rollers!
You guys have already learned how to attract referrals on Youtube, Twitter and Facebook!
In this guide, we will give you a few cool tips on how to make yourself some fresh referrals who would love to learn more about RollerCoin and would start playing and mining.
Though it's 2020, a lot of people still spend their time on forums, especially in the crypto niche. Remember – the more active referrals you have – the more ref commissions you get 😏🤑
So let's jump straight to it!
Searching for the Right FORUMS Like a PRO
There are dozens of forums on the web, so how do you find the most relevant source to bring you more refs?
We are gonna use Google and one secret search technique. Just type-in this paste "intitle:bitcoin forum" or "inurl:bitcoin forum" in the Google search bar, and you'll see some specific results there. Choose the more suitable forum and open it in the new tab.
As soon as you get through the results of this search, you can go creative and try some more combinations like "intitle:crypto forum, intitle:crypto thread" etc.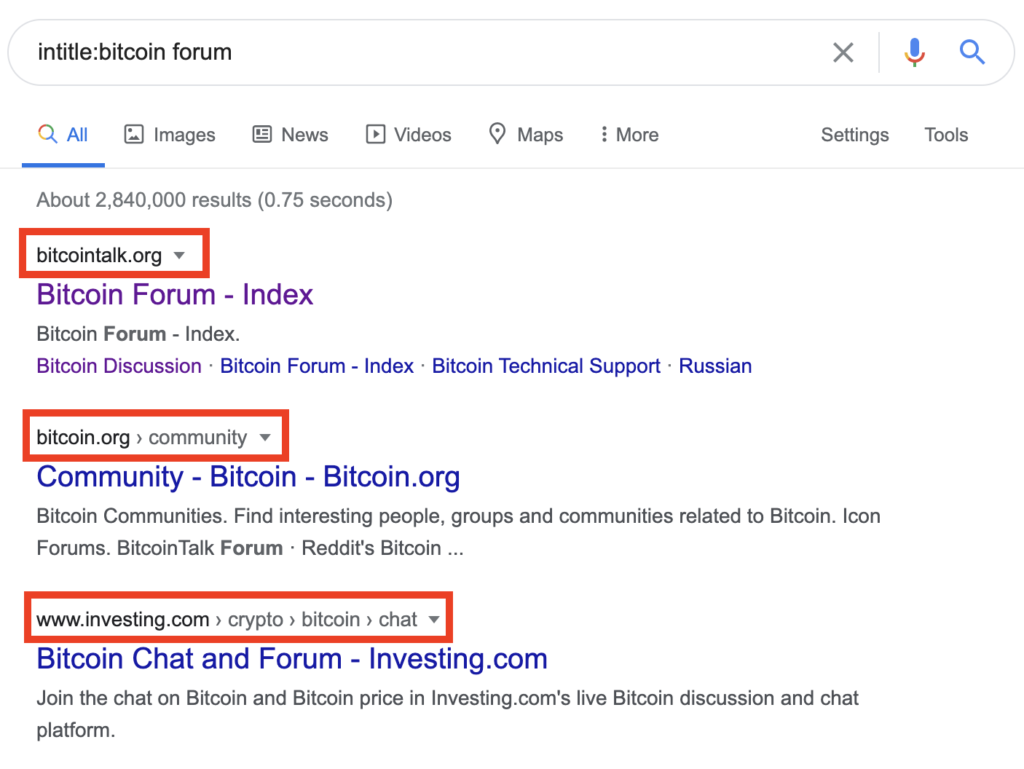 It is more preferable that you use crypto-related forums and forums dedicated to mining mostly. There is a better chance to find players who would be potentially interested in RollerCoin. But only sky is the limit, as long as you find threads related to our game on non-thematic forums it's just good for you. That means you'll get more refs from the source that other referral hunters haven't tried before you!
In case you are having troubles in your research – no worries, we got you! Here is a pretty handy list of the forums that you could hunt:
Moreover, you can easily find forums like mentioned in the list by simply googling "top crypto forums" for example.
Finding the Relevant Forum Thread
Here you've got a few options to approach the right forum thread just like on this picture: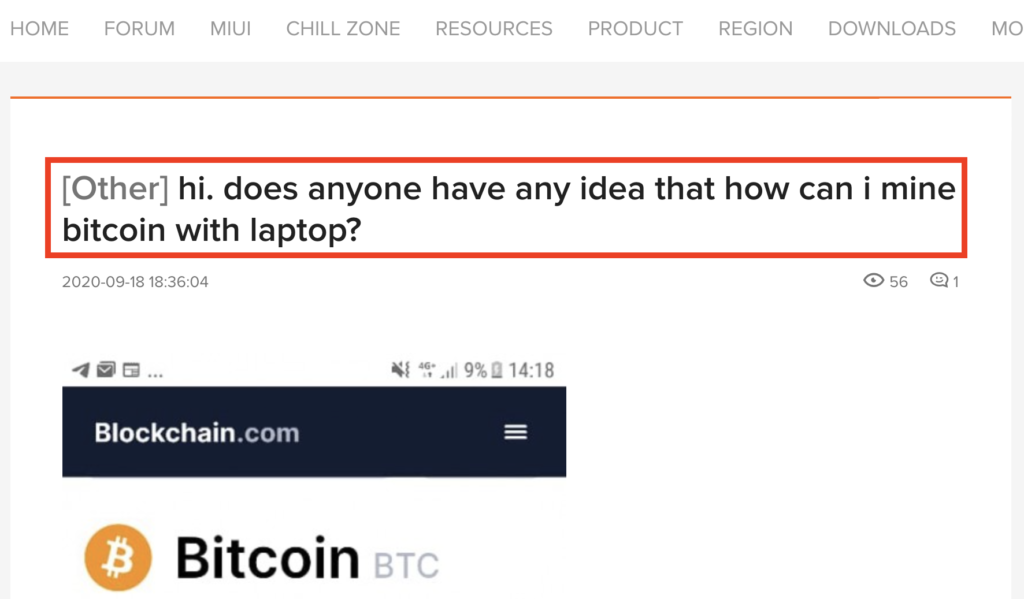 You can simply scroll through the threads in the general section, trending section, or use the built-in search within the forum.
These options are not all a good fit for you. Oh, Google is such a helper lately! Try using this tricky search query:
"site:https://www.domain.com/forum/ crypto"
You just need to place the name of the website/forum instead of "domain" in this search. You can also try searching different words at the end of a search query, such as "bitcoin, cryptocurrency, bitcoin mining, ethereum" etc.
This type of search will show you the right treads on your forum on Google straight away: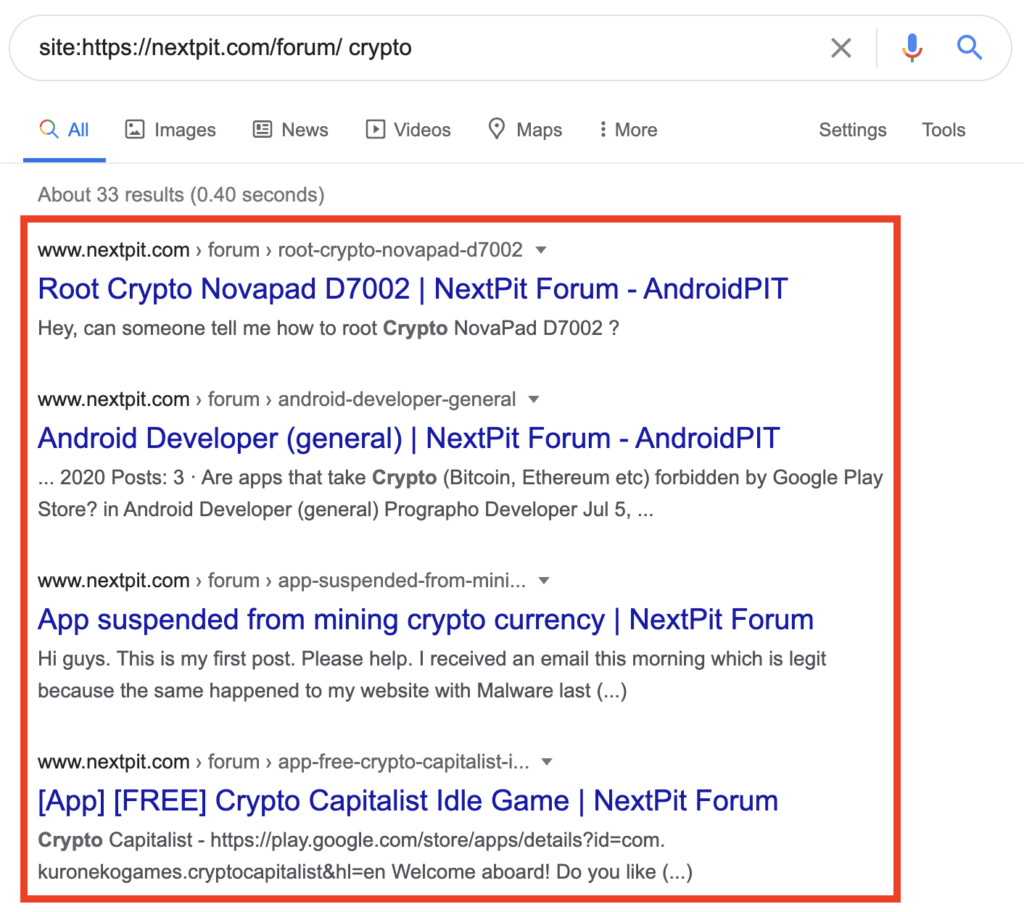 Choosing the Right Thread: Details
You need to choose the most recent and active threads available. Why?
Even if you have found the perfect thread on the forum, but it was active like 2 years ago – the chances that somebody will even see your message are sporadic.
That's why we are gonna teach you how to Google like a pro… again!
Try using Google tools to have more specific results in your search. Time selection tool is the one that could meet your needs, just like on that picture: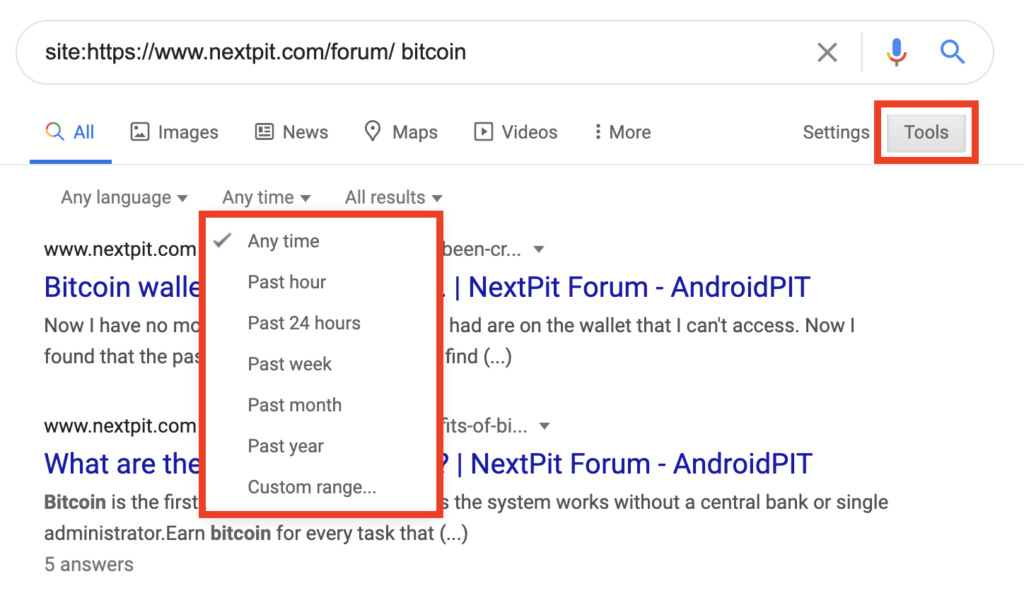 I Just Love Your Forum, Please Don't Ban Me!
Most of the forums have some basic rules to avoid unnecessary spam in threads. It means that if you have just registered on the forum, you will be watched closely by moderators and can be banned for trying to advertise!

Your very first messages in threads should be attentive to the topic, try helping somebody in the topic that you understand.
Check the requirements for the new members, it's most likely to ask new members to write some fixed amount of regular messages before being able to post any links.
Best Comment Tips to Actually Attract Someone
As soon as you find just the right thread on the forum, you need to make people interested in signing up on RollerCoin with your referral link.
How would that be possible you say? Pretty much doable. You just need to act like a regular person on the internet, who simply knows something. Never shoot a link straight away! You definitely have seen messages like this – they look like ads and don't provide any trust to click on that link. You gotta discuss the topic with other members first! As soon as you've got the connection with others – carefully offer them to try the game with real mining 😉
Check out the perfect way to do it below:


Feedback is Required
We are always open for some tips and tricks on getting more new referrals. Maybe you happen to have some in your pocket? If you have some suggestions on how to make it better for everyone – get in touch, and your methods can appear in the next guide!
Thanks for your attention Rollers and we wish you a lot of new referrals… and Commissions 😀
CHEERS!